We are teaming with the West Asheville Business Association (WABA) to promote West Asheville this holiday season!
West Asheville Holiday Window Decorating Contest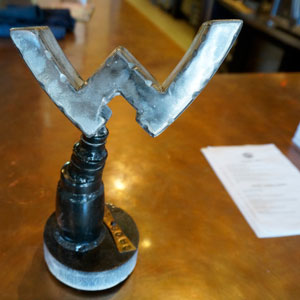 Judges will award prizes in the following categories at our
Wrap Party
December 19, 2015
Urban Orchard Cider Co.
6:00-7:30pm:
Best Use of Natural Materials – (2014 winner The Hop West)
Best Use of Recycled/Repurposed Materials – (2014 winner Sunny Point Café)
Most Humorous (Silliest) – (2014 winner Buffalo Nickel)
Most Traditional Feel – (2014 winner The Barleycorn)
Craftiest Decorations – (2014 winner Jennythreads)
Best Display of Store Merchandise – (2014 winner Twice Round Vintage)
Fanciest Decorations – (2014 winner Get it, Kitten!)
Online voting will determine the Community Choice Award (2014 winner Buffalo Nickel), with the winning location taking custody of the "W" trophy.
The "W" trophy was custom made by metal artist Chukk Bruursema! Examples of his work in West Asheville include the lion behind the The Barleycorn bar and Odd's Café building sign.
Shop West Asheville Days
We're focusing on the weekends of December 12-13, 2015 and December 19-20, 2015 by promoting extended hours, sales, specials and events while raising awareness about the excellent variety of local shops, restaurants, music venues and more that call West Asheville home.