Participate in the 2016 West Asheville Holiday Decorating Contest.
Any business or organization located in West Asheville is welcome to participate.
How to:
Tell us you are participating – fill in the simple form below (by December 4, please, so we can include you in the online voting)
Decorate your window
Wave to the judges as they make their rounds (sometime between December 5-18, even we don't know exactly when)
Encourage your customers, friends, and family to participate in online voting for the Community Choice Award (link posted December 5)
Attend the Holiday Wrap Party on Sunday, December 18, 6-8pm, at Urban Orchard Cider Company, where we'll give out prizes and celebrate
Prizes Awarded at the Holiday Wrap Party, December 18, in the following categories:
Fanciest Decorations
2015 winners: tie between The Barleycorn and Sunny Point Café
Best Use of Natural Materials
2015 winner: Jennythreads
Most Humorous
2015 winner: The Hop West
Best Use of Recycled/Repurposed Materials
2015 winner: Second Gear
Best Display of Store Merchandise
2015 winners: tie between The Littlest Birds and Whist
Most Traditional Feel
2015 winner: Saniway Vacuum Cleaner Company
Craftiest Decorations
2015 winner: Union Hill Salon
Most Creative Decorations
New category suggested by last year's judges.
View last year's winning windows – click here.
Online voting will determine the Community Choice Award.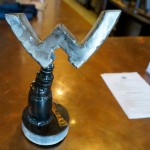 Community Choice Award
2015 winner: Buffalo Nickel
The winning location takes custody of the "W" trophy, custom made by metal artist Chukk Bruursema!
Basic rules:
Have fun with it.
Don't stress over going all out or not having time to do some crazy animated display you saw online. Really, simple is just fine.
Decorations should be visible from the sidewalk/street.
Lighting, so your window can be viewed after hours, is encouraged.
We recommend you have your window ready by December 4, but no worries if you miss that by a couple days. Keep us in the loop, so we can let the judges know when your window is ready.
Encourage your staff to come to the Wrap Party on Sunday, December 18, 6-8pm so we can celebrate together.
Participation Form:
Share this article to...